Tentsile - Spend a night in a tree tent
Tentsile is a unique way to experience nature
There is a  very short walk to the forest, where tents are waiting for you. After check-in it´s time to enjoy the evening in forest. You can swim in the near by lake, enjoy the landscape and pick berries. When the night falls, it´s time to go let the humming of the trees and the sounds of nature lull you to sleep. You will wake up to new day revitalized.
The tents are set up at a height of about 1.5m and located in the proximity of the Eerikkilä Resort area, close to Villas and holiday apartments. All tents have beuatiful lake view and are located right on the lakeside.
Tent rental includes breakfast buffet in the Eerikkilä Sport & Outdoor Resort's restaurant (about 400m from the property).
1-3 persons / nights / tent. Check-in 3pm – 6pm, check-out 12pm.
Price: 95 € (1 person) / 125 € (2 persons) / 155 € (3 persons) / night / tent
Price includes tent set up, sleeping mattress, rain cover and breakfast.
Available during summer season from mon-sat between 16.6.-10.9.2023. Maximun capacity is 3 tents / night. Age recommendation 7 yrs and older.
There are also several Tentsiles available for group bookings by prior arrangement.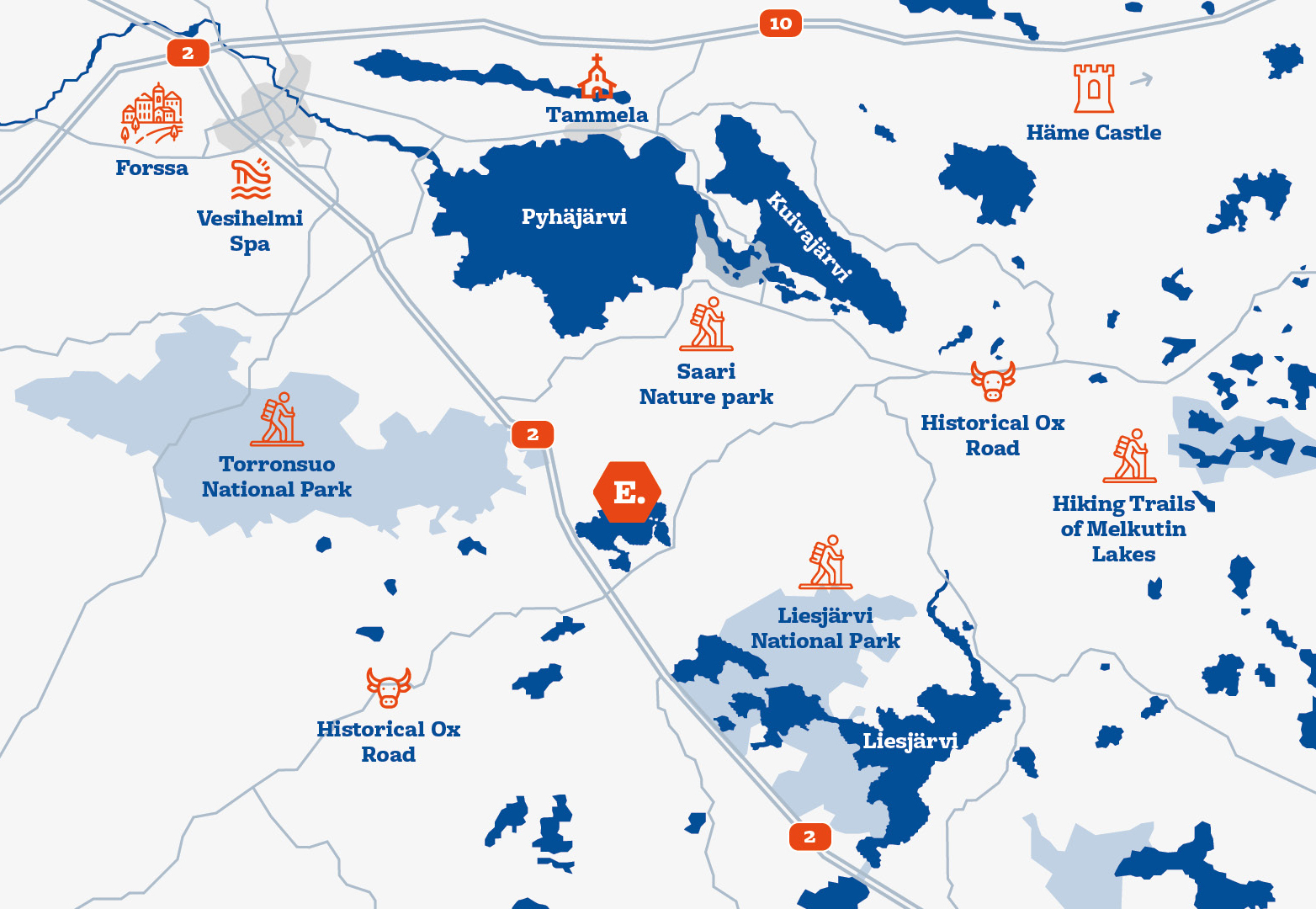 Häme Lakeland
The surrounding Häme Lakeland afford a wealth of phenomenal destinations for outings. The nature-lovers and outdoor enthusiastics can enjoy the scenery of the nearby national parks year round. The tranquil area of Lake Ruostejärvi Recreation Area and Häme Outdoor Center are great outing places for the whole family with many nature trails, lean-ons and clear lakes. The Liesjärvi and Torronsuo National Parks have several trails from day trips to overnight hiking.