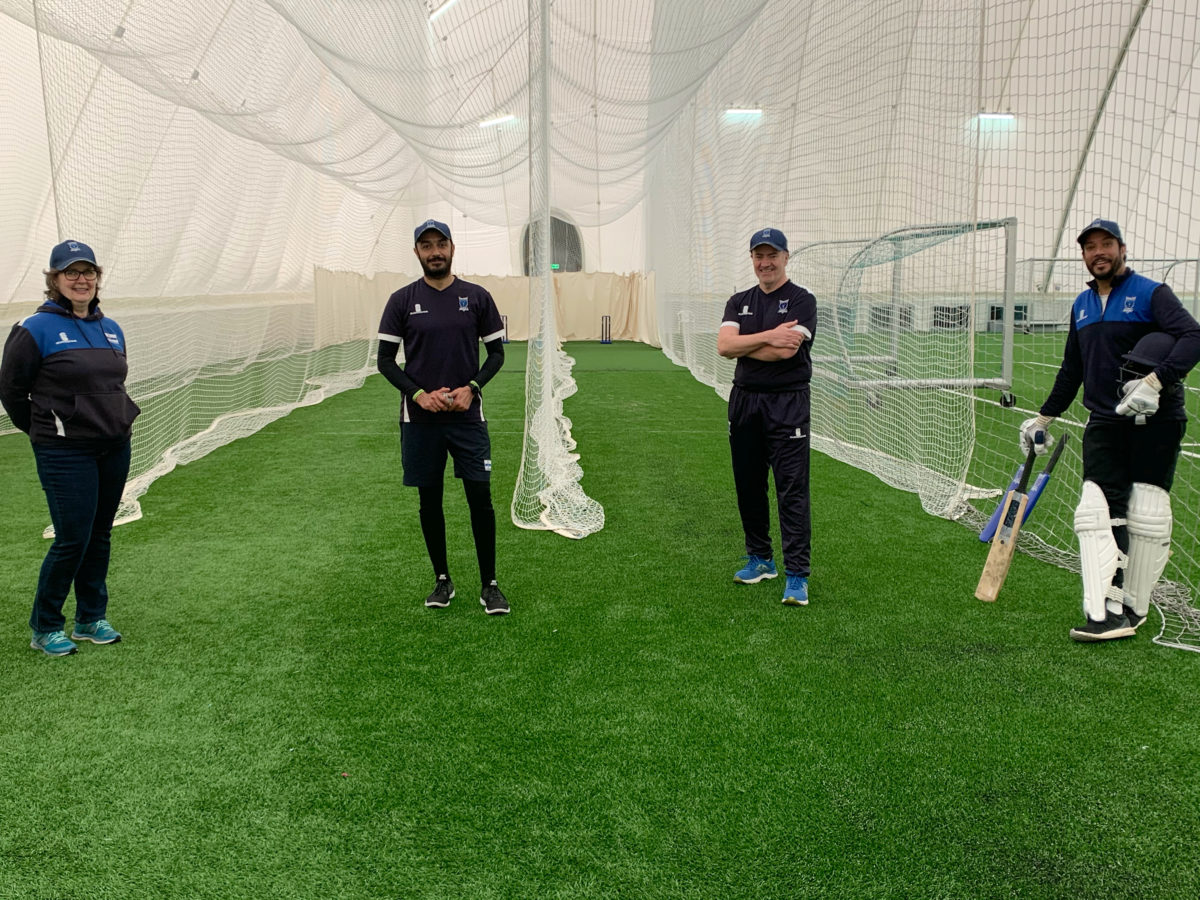 Finnish cricket takes a leap forward in year-round accessibility to the game – The country's first indoor training facility is completed at the Eerikkilä Sport & Outdoor Resort to international standards.
Finland's first cricket-specific indoor training nets have just been completed at Eerikkilä to international cricket standards. This facility perfectly complements the outdoor cricket fields in Kerava and Vantaa. The nearest equivalent indoor training facility can be found in Malmö, Sweden.
"Cricket perfectly complements the variety of sports we already host, and it offers the opportunity for our guests to become familiar with this wonderful sport. We are proud to partner with Cricket Finland", comments Petri Jakonen, CEO of Eerikkilä.
In addition to the men's national cricket squad, the new training facility can be used by Finland's more than 30 cricket clubs, while also being perfect for introductions to the game for newcomers. Cricket clubs from outside of Finland will also be interested in the new, top-quality site offering comprehensive training opportunities. Such conditions can now be found in Eerikkilä, which is also a national training centre for both football and floorball associations.
"Opening the Kerava National Cricket Ground in 2014 represented a significant step in raising the level of Finnish cricket in general, both in terms of playing and hosting domestic & international matches. This new training facility at Eerikkilä is an important addition to the sport's training infrastructure," says Maija Scamans, Cricket Finland's Operations Director.
"We initially went to check out the location and to present our visions of cooperation back in January 2019 – our ideas were aimed to further develop everything from low-threshold grassroots junior and women's cricket all the way up to elite-level national team training, Scamans continues. Now, 18 months later, this project connecting Eerikkilä with Cricket Finland, supported by the Ministry of Education and Culture has been completed.
Facility Manager at Eerikkilä Petri Salo adds that the training zone for cricket was selected from the warm-up area of the existing junior football indoor arena.
"We allocated a high-quality indoor practice area for cricket in our training hall, where it possible to train all year round. Footballers can also continue to use the area as before".
"Playing cricket at the top level requires continuous, versatile cricket-specific training. Training opportunities outside of the summer season have been completely lacking. The great new training facility at Eerikkilä will have a huge impact and benefit to both national squad and club teams that use it," said  Andrew Armitage, Cricket Finland chairman, referring, among others, to the Helsinki Cricket Club and the Finnish men's cricket team.
Helsinki Cricket Club had qualified for the European Cricket League (ECL), cricket's equivalent of the European Champions League in football, while the men's Finnish cricket team were due to play in one of the three European Twenty20 World Cup Qualifiers, hosted in Finland. Both events were planned for June 2020 before the pandemic and have now been moved to future dates yet to be confirmed.
"Eerikkilä's investment in the cricket training facility will certainly deliver great returns, after Corona lockdown is over and we can return to training in full. For example, over the last few years we have been unable to cover all the demand for cricket at the Kerava and Vantaa grounds. While internationally high-quality training opportunities will also be of interest", concluded Andrew Armitage.
Eerikkilä is a national training centre for football and floorball. It is one of the 11 Finnish National Sports Institutes that organise vocational training in sports, with a speciality to educate nature and wilderness guides for different kinds of outdoor tours and recreation for all seasons. Eerikkilä also offers activities for business customers and leisure enthusiasts.
Cricket has been played in Finland since the 1950s. The Finnish Cricket Association was founded in 1999. There are over 30 cricket clubs, from Helsinki to Oulu and over 600 licensed players. In addition, Cricket Finland runs a wide-ranging grassroots development programme that includes activities for children & youth of different ages, as well as for adults, regardless of age, gender, and ethnicity.