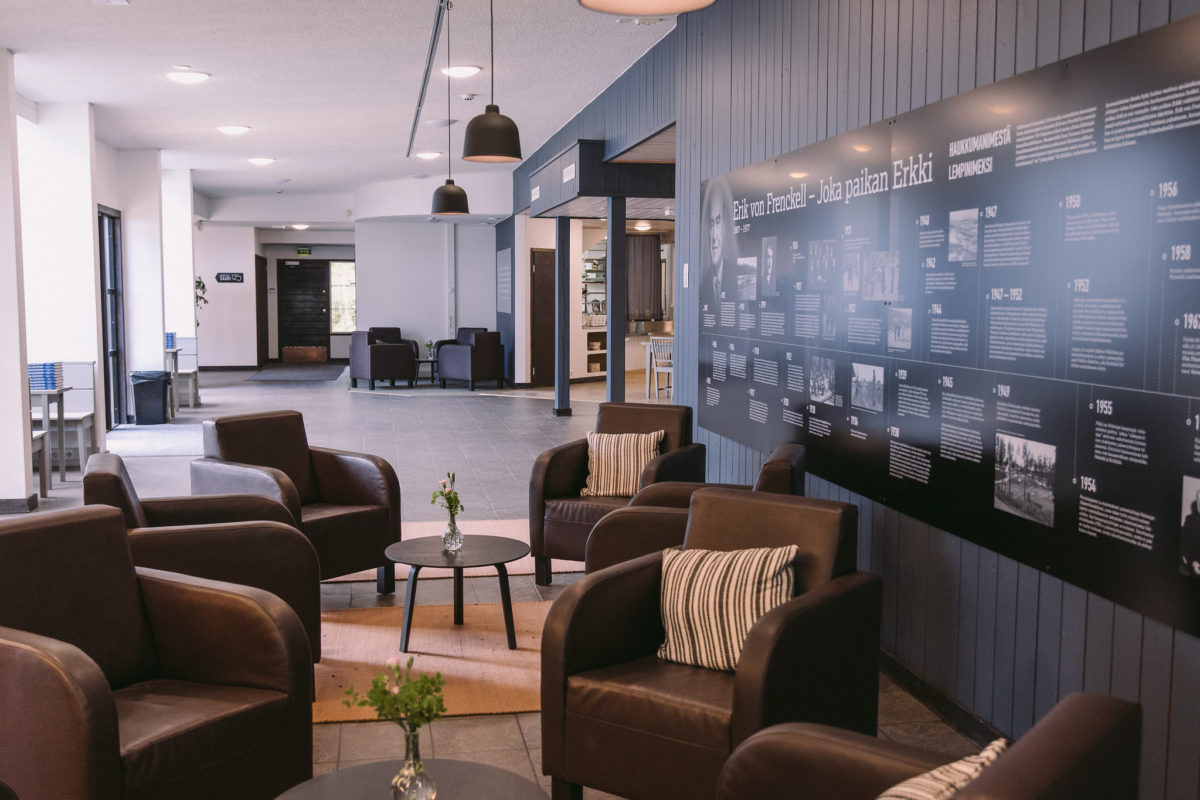 The renovation of Villa Erik has been done. The name of Villa Erik and its interior pictures furthermore stories honor the founder of Eerikkilä, Erik von Frenckell. He is the most significant influential person and a leader of Finnish exercise and sports.
Häme Nature Resort, purchased by Eerikkilä Sport & Outdoor Resort last year, went through a facelift during the winter and serves both private and company customers now.
Villa Erik was named after Eerikkilä's founder, Erik von Frenckell. In the building's interior spaces, one will get to know the pictures and stories of Erik's life along with his extensive works in Finnish sports, the Olympic movement, moreover politics, and societal projects. The pictures and stories have been produced in cooperation with the Finnish Sports Museum.
"The essential mission for us Eerikkilä folks is to cherish the legacy of Erik von Frenckell that Eerikkilä would be a little better every day. It will happen the best by helping our customers to feel good and to be successful. In this work, the focus is the Finnish football's and floorball's development's supporting, which is also the justification of Eerikkilä's existence.", tells the Managing Director of Eerikkilä Sport & Outdoor Resort, Petri Jakonen.
Mikael von Frenckell, to whom Erik was his great uncle, is thankful for the attention received by Erik and especially that the exhibition brings out his versatile background also outside sports.
"He was an all-around Erik, full of energy and optimism. He was also extremely networked both nationally and internationally. Helsinki, sports, and his home country were the most important things to him.", Mikael von Frenckell says.
"Erik von Frenckell is the Finnish exercise and sports most significant influential person and leader", concludes the Finnish Sports Museum's specialist and the writer of Eerikkilä's history work, Jouni Lavikainen.
The owner of Eerikkilä, Palloilu Säätiö and its chairman Raimo Sarajärvi praises the acts for culture's and history's support done in Eerikkilä.
"There is fantastic management and personnel, which does the work with a big heart, in Eerikkilä. The activities are developed determinately but moderately. It's great that also the history is honored with acts like this."
Villa Erik is an idyllic and close-to-nature place for small family celebrations or company events. You can get to know the Eerikkilä's founder, Erik Von Frenckell biographical pictures and stories, which have been produced in cooperation with the Finnish Sports Museum. You can follow Villa Erik on Instagram.
Who was Erik von Frenckell?
Born in Helsinki 15th of November 1887, Erik went to study in Germany at the Dresden University of Technology as an 18-year-old. Soon after graduating as to graduate engineer, Erik married Ester-Margaret Lindberg and started a working career in Germany. Stockholm's 1912 Olympics success of Finnish athletes raised a dream for Erik about having the Olympics in Finland already at that point. At Finland's first football grass pitch announcement event, Erik suggested also the construction of an Olympic stadium next to the pitch and started to work for that goal. In 1918, Erik von Frenckell was chosen as chairman of the Football Association of Finland. The next year, he was selected for Helsinki's and entire Finland's exercise board chairman and the Finnish Olympic Committee's member. As a 40-year-old, Erik succeeded in bringing FIFA's congress to Finland and he was chosen for the FIFA Council. Erik's dream of decades will be fulfilled when the IOC admitted Helsinki the 1952 summer Olympics.
In 1945 Erik von Frenckell sold at a nominal price to the Football Association of Finland, 15 hectares of Saari Country House's land. Eerikkilä's first institute building, Villa Hirsihovi, was finished two years later. Since then, Eerikkilä has been the home of Finnish football, where the men's football national team that already took part in the 1952 Olympics prepared for their matches. After the Olympics, Erik von Frenckell resigned from his 34-year Football Association of Finland's chairmanship and began as a chairman at Palloilu Säätiö, to which the Eerikkilä's ownership transferred from the Football Association of Finland. Erik von Frenckell passed away in 1977 at the age of 89.