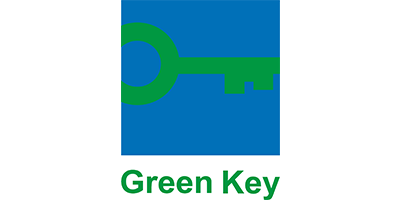 The responsibility work has borne fruit lately in Eerikkilä. Accommodation and travel activities were admitted last year's Green Key -certificate's continuation in June 2022. Last year's Sustainable Travel Finland -label admittance to Eerikkilä has also received an extension until 2023.
Eerikkilä Sport & Outdoor Resort's accommodation and travel activities were admitted to the world's leading travel industry's eco-label Green Key. Eerikkilä's accommodation and travel activities were also admitted the Green Key -certificate's continuation in June 2022. Green Key is a 1984-founded international certificate, which is operating already in 65 different countries. The criteria for awarding the label are altogether 13 and those dealing with environmental responsibility diversely. The label is admitted based on the application and audit reports by the environmental protection, travel-, and accommodation industry's furthermore corporate social responsibility fields experts comprising Green Key Jury. Green Key is an international nonprofit FEE's (Federation of Environmental Education) supervised environment program. The destination awarded by the label has been committed to increasing the knowledge of environmental awareness among the personnel and customers, the intensification of energy and water consumption, moreover decreasing accommodation activities' environmental strain.
Also, Eerikkilä Sport & Outdoor Resort was admitted Sustainable Travel Finland (STF) -label as a demonstration of long-term work towards sustainable tourism last year. Now, as the most current recognition, Eerikkilä was admitted STF -label continuation until 2023. Visit Finland has launched a seven-step Sustainable Travel Finland -program for the tourism businesses and areas, Sustainable Travel Finland -label results from that program. The program is suitable for all the companies that serve international tourists in Finland. Its basic principle is to bring out more sustainable travel destinations in Finland. The program offers a sustainable travel development toolbox, whereby sustainable actions and decisions adoption to the region's or company's everyday life gets easier.
For the past year, there have been made visible operations for waste amount reduction by upgrading sorting possibilities, for example by adding plastic recycling and sorting possibilities to the interior space as well in Eerikkilä. In the future, there will be measured the Co2 emissions in Eerikkilä annually. The emissions were measured by using 6Aika -project, especially the travel industry planned carbon footprint calculator. Yet, in the year 2018, the emissions were 841t Co2 when now the emissions were 595t Co2 (measured from Scope 1 and 2). Earlier, Eerikkilä announced to halve its carbon footprint by 2030. At the same time, we set the goal to be emission-free from 2040 onwards.
"We have done concrete actions towards responsibility for several years now, together with our committed personnel. It is great to get recognition for a job done, but foremost to notice that the work starts to bear fruit", says Eerikkilä's Marketing Manager, Laura Sirén.
Eerikkilä Sport & Outdoor Resort is a place for people who aim to develop their know-how and well-being. We provide top services and facilities for sports, education and corporate events, as well as recreational and outdoor experiences. www.eerikkila.fi/en